Living Brave: Succeeding Against All Odds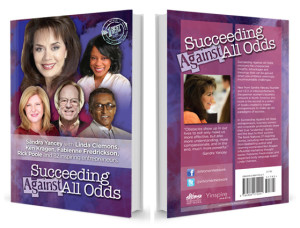 When
Sunday, March 2nd, 2014
3:00 PM to 6:00 PM
Event will begin promptly, regardless of weather.
Where
The Mandalay
2700 East River Road, Dayton, Ohio 45439
Cost
$30 per/person  ($100 value)


Purchase tickets at the door
or online  ——————>
Experience the transformational message:
Learn how to awaken your authentic self
Discover ways to identify your true spirit
Envision your future success with an innovative personal plan
Get innovative tools to overcome any adversity
Receive information on how to become healthy naturally
Price includes: One signed book by Sandra Yancey and Rick L. Poole; Natural & healthy vegetarian finger foods prepared without canola oil;  and  the "transformational" message.
———————
Sandra Yancey is one of North America's top business and life transformation masters. As the Founder & CEO of eWomenNetwork, one of the largest and most successful women's business networks in North America, she has dedicated her life to helping women in all stages of their business cycles to achieve fulfillment and profitability.
Rick L. Poole is the owner, creator, and founder of Natural Foods Plus and has been a naturalist/vegetarian for more than 30 years. Rick's mission is overcoming cancer – not just physical cancer, but the cultural and societal cancer that takes root and grows around the world, without the right mindset and lifestyle choices.